Request quote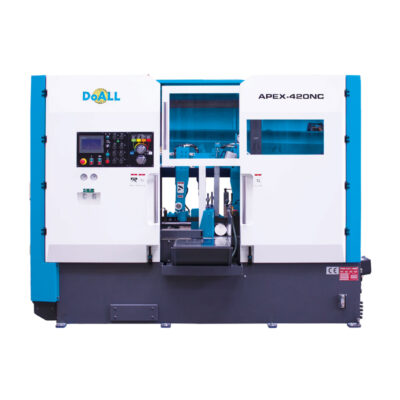 APEX-420NC Band sawing machine
Max round 420 mm
Max rectangular 420 x 420 mm
Max bundles 310 x 210 mm
Standard equipment
Front end detection for first cut (only diameters
    of 30 mm and bigger).
Short piece cutting in manual mode using the index vice as workstop.
Automatic setting of sawguide arm.
Helical gear reducer 7.5 kW drive.
Measurement of position of sawhead height;
    visualization of feed speed.
 Measurement of workpiece width.
Two column linear bearings.
 Variable band speed controlled by inverter.
Automatic hydraulic chip conveyor.
Hydraulic operated saw guides.
Variable vice pressure control.
Power driven band brush.
LED work light.
| | |
| --- | --- |
| Max round mm | 420 |
| Min round mm | 10 |
| Max rectangular mm | 420 x 420 |
| Max bundles mm | 310 x 210 |
| Min bundles mm | 170 x 90 |
| Blade mm | 41 x 1,3 x 4.880 |
| Band speed m/min | 16 – 85 |
| Band drive motor kW | 7,5 |
| Material pass line mm | 690 |
| Dimensions mm | 2.270L x 2.790B x 2.030H |
| Weight kg | 3.000 |